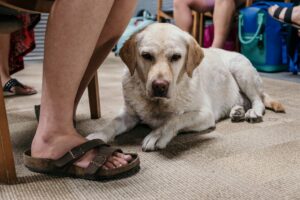 In a perfect world, every animal-loving couple would have their four-legged friend accompany them down the aisle. However, this isn't always practical. Pets at weddings can be a challenge. So, it forces pet moms and dads to get creative on their special days. 
Eager to help with this furry-friend wedding day dilemma, I've compiled a tail-wagging list of options for any newly engaged pet owners. 
#1: Pet guests can attend the wedding
Before you fall in love with the idea of a fish-for-pet flower girl, hear us out! Whether your pet can attend your special day depends on many things, including the location, timing, and pet behavior. It's easy for a dog to be a "good boy," but a jumping jackalope might be an issue.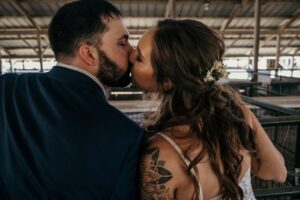 If you think you want your pet at the wedding, ask yourself these questions:
Can your reception hall or venue accommodate your pet? 

Will your wedding venue allow pets?

Will your pet behave the entire time?

Is there someone to watch or manage your pet?

Is it possible to hang decorations high enough so pets won't bother them?

Can you include your pet's attendance on invitations? 
If you said "no" to any of these questions, having your pet attend your wedding might not be the most practical option. But, there are other ways to incorporate them into your special day. As an Omaha Wedding Officiant, I believe you'll be wagging your tails at these ideas. 
#2: Print their picture on Koozies
"To have and hold and keep your beer cold" is the standard phrase for a wedding koozie. But, it's time to shake paws with a new idea. Consider printing your pet's photos or drawing them on one side of your wedding koozies to hand out to guests. 
#3: Hire Barking Vows
Send your furry friends off on a special retreat. Barking Vows offers unrivaled pet services. When you hire them, they can assure that your cuddly critter will be in the loving hands of a responsible sitter in a safe environment — belly rubs and playtime guaranteed! When watching your pet, they give them plenty of attention and opportunities to socialize with loved ones.
#4: Family photo time
If you can't bring your beloved pet to the wedding, consider booking an outside-of-the-ceremony photo session. Pet portraits and photos are great for save the dates, invitations, doggie bags (party favors), and table-top centerpieces. 
#5 Custom cake topper
How cute would it be to get a cake topper for your pet? Hop on Etsy to commission a seller or ask a baker friend to render them in icing. 
#6 Ask guests to donate to the animal shelter
If you found your pet through a rescue, it would be a lovely sentiment to ask your guests to donate to the shelter to honor your fluffy companion.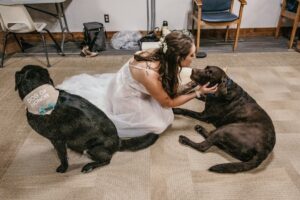 #7 Name a beverage after them
If your bartender offers the option of bespoke cocktails and drinks, why not get them to create something inspired by your wonderful pet? Grated, your animal might not be affiliated with any particular spirit (or at least we hope not!), but this isn't really the point – an animal-themed cocktail can be fun!
Hire a Professional Wedding Officiant 
We love to help our couples design and create the ceremony of their dreams, including thinking up these adorable ways to include your pet in your wedding. If you're ready to "tie the knot," text us at 402-965-1060 or call 402-965-1060. Additionally, you can book a consultation for FREE right here.