In recent years, Nebraska Winery wedding venues have become increasingly admired. They're exceptionally dreamy and romantic and have lots of desirable amenities, ample outdoor space, and plenty of gorgeous backdrops for your wedding photos.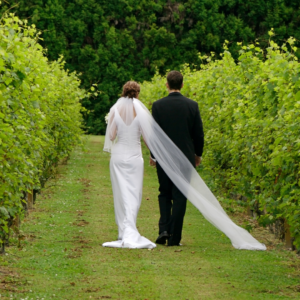 To help convince you how perfect of an idea this is for your Nebraska wedding, we put together these 9 reasons why having your wedding at one of our favorite wineries, Miletta Vista, makes the mark!
#1 A vineyard wedding is also a (closeby) destination wedding.
If a destination wedding sounds like your "jam," but you want a place that doesn't require your guests to head to Walgreens for a passport photo, a vineyard wedding is a great option to consider.
The beauty of Miletta Vista's 360* views is feeling like you're actually sipping wine in Sanoma County, but you've only traveled to St. Paul, Nebraska. 
#2: You can serve an indulgent menu [without it falling flat].
One of the benefits of having your Nebraska wedding at Miletta Vista Winery is that many specialize in various styles of food. And, what's even better? The fact that they focus on catering to weddings means that you and your guests will be in for quite a treat when it comes to the food.
Miletta Vista Winery is known for its "farm to fork" style of food. So, you can expect delicate dishes with the finest ingredients. In fact, expect to find comfort knowing the chefs at Miletta Vista truly take pride in their dishes, offering fresh, natural ingredients and homemade dressing. Supporting local farmers, they use local produces as much as they are able. 
Additionally, since the chefs are experts in preparing food for weddings, they know exactly how to whip up a menu that will serve your guests well without having them roll into the night's after-party on heavy stomachs. 
What's our favorite dish? We highly recommend the Mediterranean Salad or the Bacon White Cheddar Burger (when visiting their restaurant during regular business hours). But check out their menu for yourself. 
#3: We can vouch for them, personally. 
The menu is only the beginning. The food at this Nebraska wedding reception isn't all there is to look forward to, though. You can also expect that the service will be top-notch. By selecting a vineyard specializing in catering for weddings, you can rest assured that your servers will be pros.
A Bit About The Owners:
As Mick & Loretta say, "young in wine years," they began their journey in 2007 with a strong passion for quality wines. That passion proved, having won a Jefferson Cup (Brianna) and a US National, Best of Show White Wine Award at Sonoma, CA (Brianna); Another Best of Show White Wine Award, at the Florida International, for their Eldeweiss wine. Also, Multiple Gold and Double Gold winning wines, as they say, "bless our customers as we strive to make the best in the Midwest." 
Their hilltop vineyard and winery location provide a second to none view in Nebraska and one to remember for any couple seeking to host their wedding and reception. 
The couple takes pride in their vines. Saying, "Our vines have been purposely selected to thrive on the terroir of this hilltop and provide customers with wines they can enjoy today and, for the years, to come."
Knowing the owners, we can truly say they've fought with the fuel of their passion and dedicated their life's work to their business, even through the toughest of times. 
On June 23rd, 2012, life as they knew it changed when their beloved winery illuminated the sky at 2:00 a.m. with bellowing flames. With the help of 6 fire departments and 300,000 gallons of water, volunteer fighter fighters could extinguish the fire nearing 6:00 a.m.   
As described by the couple, this "New Beginning" could have been a tragic end to their business. But, instead, the owners refused to allow their dreams to die with bravery and resilience as they rebuilt their 12,000 sq. ft. building. Impressively, the owners were able to open their doors just 345 days after the fire. Now, bigger and better, the winery is home to a restaurant and tasting room that's doubled in space.
The Miletta Vista Winery offers patrons a chance to eat food that easily complements both the wine and the 360* vista surrounding. If you're a wine-loving couple, you're going to love this dreamy hilltop experience.
#4: The natural scenery is unbeatable.
Of course, if you're already considering having your wedding at a vineyard, the chances are that the beautiful. But, we think something extra special about exchanging vows with your beloved surrounded by nature's rolling hills, river, and plant life. 
#5: Vineyards are great for photography.
So, if you're already considering having your wedding at a vineyard, the chances are that the beautiful landscapes are one of the top draws for you. Even if you aren't into landscape photography, though, it's still easy to see why so many say choosing a winery is one of the best decisions they ever made.
Many vineyards offer gorgeous flower beds, rustic bridges, charming gazebos for exchanging vows, and even horse-drawn carriages. Of course, it isn't easy to top the stunning views of the rolling hills, flowing river, and gorgeous vines at Miletta Vista. 
So whether you're into artsy photos or more traditional ones, there are photo ops galore at wineries. And with the right photographer (and a bit of creativity), these spots can be turned into timeless wedding keepsakes. 
#6: You can get really creative with your décor.
When you host your occasion at a winery, the possibilities for decorations are endless. If you decide to go that route, DIYing wedding décor is a breeze since most vines and plants will be readily available on site.
#7: An array of on-site amenities.
Some places even have fire pits available for guest use after dark—perfect if you'd like your reception to have a more low-key vibe or if you'd like to turn it into an evening affair. Of course, you'll need to ask the venue what they offer before planning extra activities. 
#8: Plan a day-after picnic in the vines!
Consider this: You can have an intimate picnic among the vines.
After your wedding is over, you and your spouse can share a private moment as you celebrate together by eating catered food and drinking wine. We know—how romantic!
#9 Tours & More Keep Guests Entertained
 Follow up your wedding with a winery tour. Invite guests to sip, relax and learn a bit about the history of the vineyard. Strategically making time for a tour while you get your newlywed photos taken provides entertainment (and is quite genius, we do say ourselves). 
Conclusion
If you are looking for a particularly dreamy and romantic wedding with many desirable amenities, we highly recommend booking your Nebraska wedding at Miletta Vista. They offer a unique blend of breathtaking scenic views, International Award Winning wines, and world-class foods. Their tasting room and restaurant feature a wine bar, a private party room, and large windows featuring a panoramic view of the river valley. How could you not? 
We hope that you enjoyed these 9 reasons why having your wedding at one of our favorite wineries might be the best decision you've ever made. In addition, if you have not chosen a Nebraska officiant, please consider scheduling a free consultation. We love wine-loving couples and would love even more helping you celebrate your special day. 
Need 6 Real Reasons to Hire a Professional Officiant? Check out our recent blog here.