Choosing to hire a professional midwest wedding officiant is a decision you aren't likely to regret. 
If you're anything like most newly engaged couples planning their big day, deciding whether to hire a professional is only one of the many things you'll need to make. But, you may teetering between hiring a professional or asking a friend to perform your wedding instead. 
It can seem like there isn't much difference between utilizing a layperson or hiring a professional for many couples. Still, there are quite a few significant advantages to hiring someone with experience. 
It isn't difficult to become a professional officiant. It's actually very simple in most areas of the United states to perform a legal marriage ceremony. 
More often than not, the only obstacle is that to become an officiant, you must become an ordain minister. But, this can be done simply online through many different sites. With the small exception of areas with tigher requirements, this means that almost anyone can perform a wedding ceremony – but honestly, should they? 
In this blog, we'll discuss the professional advantages of hiring a Midwest Officiant for your wedding ceremony: 
Professional Advantages to Hiring a Professional Wedding Officiant:
There are several benefitsto hiring a professional wedding officiant. They bring experience, knowledge and skills straight to the table to offer a top-knotch ceremony, delievered with grace and poise. Now, let's dive deeper into the logistics: 
Here's why: 
#1: Experience 
It might not be obvious, but the #1 reason on our list is experience. When someone has more experience, they're better equipped to deliver top-knotch performance amid an unpredictable and unscripted environment. 
We know first hand that performing a wedding isn't as easy as reading a paper. Between guests mumbling, children crying and vendors moving about, it's easy for amatuers to get thrown off by the near-constant distractions. A professional officiant comes prepared to deal with distractions, provindg a level of comfort that only comes from experience. You can expect a professional to be calm, cool and collected which leads to a better overall experience for yourself and your guests. 
#2: Knowledge 
Since a professional officiant can benefit from the experience, they can also offer knowledge and guidance that you simply can't get from an non-professional officiant. Amatuers will not a know how to help you plan the little details that make your day so special. They can advise you on the proper length for your ceremony and any potential logistical challenges you might face at your venue.
#3: Reliability 
One of the biggest drawbacks to hiring an amatuer is the lack of reliability. At our office, we here horror stories of unhappy clients who hired a low-grade officiant or a close friend who didn't put your wedding as a priority on their list, not showing up for the count. Unfortunately, these things happen. It's stressful! It's uneasy. A professional wedding officiant understands what it means to commit. They take it seriously and as a matter of professional integrity. Give yourself peace of mind by hiring a professional that will show up for you and your loved one. You will not regret it! 
#3: Teamwork 
Planning a micro-wedding? No? Chances are you're hiring more than one professional to help make your dream day a sucess. Between DJs, videographers, caterers, photographers and wedding planners, they musta ll work as a team with the officiant to ensure everything goes as planned. When one of the vendors isn't an experienced professional, the other vendors feel that they have to "babysit" the amateur instead of concentrating on their own job. You might be thinking, "why, my friend is good!" But, we've added this to the list because we understand that different vendors at the wedding have related responsiblities, each depending on one another's competence to ensure the day runs smoothly. Your big day requires each vendor to work together as a team and every member of that team must work their best to make things go as planned. 
#4: Control 
Aside from experience, the most crucial reason to hire a professional officiant is control for most couples. A major advantage that professional officiants offer over church-based clergy is the ability to create a completely customized ceremony for every almost newly-wed without being bound by tradition. 
Couples give up control when they hire a friend or family member. This is because of the inherent awkwardness of having a personal relationship with them. When you hire a professional wedding officiant in Nebraska or Iowa, you will never have to worry about offending them. If you are unahppy with their suggestions or if you dislike something, they will be happy to! However, it's a much different story with a friend or family member who might take your suggestions to heart. Additionally, you might feel awkard telling your friend or family member that you do not want something said. Ultimately, this is your big day, and a professional officiant will respect and understand that. We want you to have exactly what you want for your special occasssion. 
#5: Legal Considerations 
As mentioned earlier, some states are more strict than others when determining who may, or may not, perform a legal marriage. Therefore, it's vital to familiarize yourself with the marriage laws in the area you plan to wed to avoid running afoul of local legal issues & laws. Hiring a professional is another way to be 100% sure that your marriage won't face any legal problems – as we will be familiar with any city, county, or state laws and ensure they comply. 
#6: A Choice You Won't Regret 
Make your wedding planning less stressful by hiring a professional wedding officiant. It's truly the only way to ensure your big day goes off without a hitch! While it may seem like a small detail compared to others, keep in mind your wedding ceremony is the whole reason for the day. With so many benefits to hiring a professional instead of an amateur, it's not a choice you'll be likely to regret. 
Now that you've read 6 real reasons to hire a professional wedding officiant, we'd like for you to meet our team: 
Our Professional Wedding Officiant Bio
Our Professional Officiants are ordained by American Marriage Ministries or ULC, both are non-denominational, interfaith based. We deeply respect and understand the traditions, ceremonies, and rituals associated with many different religions and spiritual beliefs. We are dedicated to helping others on their chosen path, on their terms, without prejudice or judgment. We are licensed to solemnize marriages in Nebraska and Iowa. We will customize your ceremony to your level of belief or religion. We are also happy to perform Civil-Ceremonies. 
Lead Officiant, Rev. Carol Lynne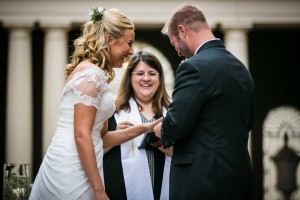 Carol is the owner of I Tie The Knots and the lead Professional Wedding Officiant. With her love for and experience in wedding preparation, you can expect her to help guide you through your planning, rehearsal, and wedding ceremony process. She performs wedding ceremonies at Omaha's finest venues. She will bring her experience and lighthearted, confident manner to your wedding day.
Carol has been married for over 30 years to Monty. They have four adult children and three granddaughters, ages 8, 2, and a newborn whom they volunteer to babysit and care for as many times a week as possible. At home on their 10-acre ranch, they have a yellow lab, appropriately named Rowdy, along with two ponies for the granddaughters. Life's always better on the farm! 
Contact us today to schedule your complimentary consultation.
Click this link to EMAIL us. Text us at 402-965-1060 or call 402-965-1060. We offer online scheduling for your convenience. CLICK HERE to find a date and time that works for you. During your 30 minute consultation, you will meet with the Owner, Carol Lynne, and discuss your vision and the details of your wedding ceremony. Our goal is to make your event an extraordinary and problem-free celebration for you and your guests. We are available for suggestions to help select a venue for your ceremony/reception, photographer referrals, and any other detail you would like assistance with. Our services are outstanding. And our friendly, professional staff will courteously attend to your every need.