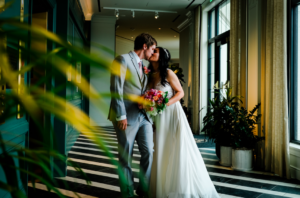 Selecting a wedding dress is an intimate experience. Generally, we want a dress that speaks to us, radiating our personality and how we want to be perceived by others. We also want to feel comfortable and look our best in our wedding dress. Though at first thought, choosing an officiant may not feel similar to picking a dress, it is vital that an officiant "feels" just as right as the perfect dress. 
Most people take time to consider what they want in a wedding dress. It is a special garment for a special occasion, an occasion that will be lovingly remembered. It is a time when we can be picky with our choice of dress and the food, decorations, and place. Not to mention the people that surround us. It should be no different when choosing an officiant. It would help if you were picky and particular about the person making your commitment to your partner official. 
Here we will outline how to go about selecting an officiant in Nebraska for your ceremony and the considerations that go along with the decision.  
#1: Find Styles You Like
It is likely that you have an idea in mind about how you want your ceremony to be. To begin, ask yourself these questions:
Are you looking for a short, sweet modern ceremony? 

Or one that takes into account special traditions? 

Are there particular components you would like to include? 

What role does religion play in your ideal ceremony? 

What role would you want your family to play? 

How do you want to remember your ceremony? 

Are there traditions you do not want to include? 
Take into account the tone you would like to have. Some hope for a more light-hearted ceremony with lots of laughs. While others may want to make the occasion feels more romantic and serious. A skilled professional Nebraska officiant can offer the right balance to produce your desired feel for your wedding day. 
We recommend compiling a list of what you want your ceremony to look and feel like for yourself, your future spouse, and your guests. Envision your ideal experience and note down all the things that are important to you. Ask trusted friends or family for advice when choosing a Midwest officiant; some close loved ones may have ideas that you might want to integrate. Search the "review" section of Google and social media for past experiences. 
With a framework in hand, you can learn more about our professional wedding officiants here and note the ones that seem like a good fit. You will learn about their backgrounds, areas of expertise, and how they approach officiating. Note officiants that you think can provide the experience you want for your wedding day. 
#2: Set Up an Appointment to "try on."
Once you have chosen a few Midwest officiants you would like to learn more about, it's time to set up some interviews to "try them on for size." It is important that you touch base with your professional officiant to be sure that they complement your style and also meet your needs for your wedding ceremony. Again, you should be picky about this decision! Be sure to invest the time necessary not only to meet with officiants but also to give yourself time to make a decision. 
#3: Bring the Proper Undergarments 
To get an idea of how your wedding dress will fit on your wedding day, you MUST bring the right shoes and *ahem* foundations for your dress fitting. In the same manner, come prepared for your interview to make the most of your time together and truly gauge how well you mesh. 
It will be beneficial to bring with you your notes on how you want your ceremony to be and what type of ceremony you want. Know exactly what kind of officiant you want as you try them on for size. At the same time, take this as an opportunity to learn more about what goes into crafting a ceremony and be open to suggestions from the pros, the same way you would be open to the suggestions of a professional dress fitter. Here you will find ceremony materials that are commonly used. Be sure to browse this link for inspiration. You will also want to brush up on different types of professional officiant services, so you have a better understanding of the ceremony process.  
You may want to come prepared with questions such as:
What type of weddings have you officiated?

What is your ceremony style?

What paperwork do you handle?

How do you go about personalizing the ceremony for my partner and me?

Will you help us write our vows if we choose to? 

How often will we meet?

How much can we input into the ceremony? 

Will you participate in rehearsals? 

How long is a typical ceremony?

What will you wear?
They will likely have some questions for you too. Be prepared to share openly with your officiant to see if you are a good fit. Also, check for the availability for your wedding day! 
#4: Prewedding Maintenance 
Once you find the right dress, there surely will be adjustments to be made. Just like you might work intimately with a stylist or seamstress to perfect the fit of your find the perfect dress, premarital counseling is the final touch that gives the start of your marriage the tools for success. Your professional officiant can help you prepare for marriage using our award-winning Saving Your Marriage Before It Starts (SYMBIS) and the new SYMBIS Assessment. Premarital counseling reduces the chances of divorce by 31%! Strengthening the relationship with your partner as you learn more about yourself and each other in counseling will be well worth it on your wedding day and beyond. 
#5: Accessorize! 
With your dress selected and fitted, you can now shop for accessories that enhance your outfit. Like a beautiful veil goes perfectly with a dress, a professional officiant goes well with preferred vendors. 
The vendors we work with are our trusted partners in the pursuit of your perfect wedding day. Including preferred vendors will ensure not only professionalism but also that your vendors and officiant can work together efficiently. 
We hope these five tools help you better pick a wedding dress, but better yet, an officiant that matches your wants, needs, and desires. If you already know who your prospective officiant is, ask them about their process and if you will be able to provide input. If you do not have an officiant, we'd be so happy to learn about your wishes for your wedding day. Contact us today to schedule your complimentary consultation. Click this link to EMAIL us. Text us at 402-965-1060 or call 402-965-1060. Thank you again for stopping by our blog.