A wedding is more than cake and rings: it's a legally binding contract, and often holy, a union between two lovers – sometimes of different faiths. If you and your fiance come from two different religious backgrounds, I Tie The Knots Weddings can help you create a wedding ceremony that blends both of your family's traditions.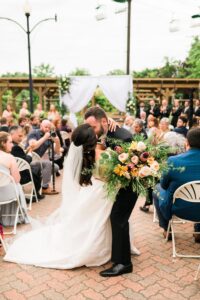 I, Carol Lynne, Owner, have experience and training in creating interfaith weddings that mirror the beliefs and values of different faiths, all while celebrating each of their uniqueness individually. Additionally, the experience I draw up will be beautiful for guests because, as you may know, love knows no boundaries. So, I carefully craft a day that can be bridged between many different traditions with the couple. 
On May 30th, 2021, a fun-loving couple honored me with the opportunity to help plan and officiate their beautiful and wild wedding at Henry Doorly Zoo's Garden of the Senses, right here in Downtown Omaha Nebraska. This interfaith wedding consisted of both religions: Christianity and Judaism.  
Before the ceremony, the couple and I spent time planning how their interfaith wedding day would look and feel, and here's how it turned out: 
The Ketubah, or Jewish Marriage Contract
Before the wedding ceremony, the couple chose to sign a ketubah or Jewish marriage contract. As an ancient tradition, the ketubah lists details of the wedding, including the date, bride and groom's name, and a brief layout of what the couple owes each other during their marriage. In more traditional communities, it outlines what the groom is obligated to provide his new wife, including financial and marital responsibilities. 
Whether modern or traditional, the ketubah is often a beautiful piece of Judaica that can be framed within the couple's home after the wedding. Some are custom-made with calligraphy and art, and some are purchased pre-made, with spaces for the wedding details described above. 
Proccessional & Presentation:
The processional and recessional order is a bit different in non-traditional Jewish ceremonies. As a Jewish tradition, both the groom's parents walk him down the aisle to the chuppah, a four-cornered altar where the couple will exchange vows. Then, the bride follows with her parents. 
In this interfaith wedding ceremony, the couple chose to fashion the processional closer to the Christian faith. First, Jeremy's mother walked lovingly with her son down the aisle. Then, she took her "best seat in the house," located in the front row! Next, guests rose to the occasion when her father accompanied Laura to waltz to the chuppah where she'll say her vows.
In Christian ceremonies, the "giving away" of the bride by per parent or parent figure is known as a presentation. It symbolizes that the bride is a gift being given to the groom, but we know times have changed! This particular moment is now recognized more as a sentiment symbol for the parents of their child uniting with someone else. 
Moment of Silence: It's traditional in Christian weddings for the officiant to take a moment to pause to remember those who have passed at the top of the ceremony to welcome their presence within the space. 
Homily: Tailored to the couple, this "ceremony message" is a portion of a traditional Christian wedding ceremony where I offer insight into the relationship and anecdotes of their road to marriage. 
Prayer: After the sermon, it's common in Christian weddings to offer a few words of blessings for the soon-to-be-wed couple. Frequently, hosting an interfaith ceremony means working with an individual wedding officiant, like myself, who can craft a personalized ceremony that honors different faiths. 
Because I craft a personalized ceremony for each soon-to-be newlywed couple, I can speak with the other person performing the tradition beforehand to coordinate well before writing the ceremony myself. 
Vows Beneath the chuppah: 
The chuppah represents the "new home" that newlyweds will build together, symbolized by cloth coverings and four posts that outline the structure. The chuppah is a wonderful way to honor a tradition while expressing who you are as a couple and paints a picture for the ceremony.
Dazzled in gorgeous flowers, the soon-to-be newlyweds chose to say their vows underneath this freestanding structure as part of the Jewish tradition. As a sacred part of the wedding, the exchanging of vows is when the couple makes mutual promises to uphold their marriage's sanctity. 
As a professional officiant, I ask each member to repeat lines after myself or ask each person to respond with "I do" after reading the vows. The couple chose to share their vows, which are more personalized promises and offer more profound meaning and sentimental value. 
Ring exchange: As a common wedding tradition, the couple chose to exchange wedding rings to express to the world that they belong to someone special and someone special belongs to them.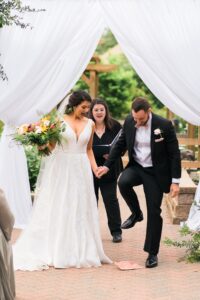 Breaking of the Glass: After the couples share their first kiss and the ceremony winds down, it's customary in Jewish traditions for the groom (or sometimes with the bride) to be invited to stomp on the glass inside a cloth bag to shatter glass. 
Some say this tradition represents the destruction of the Temple in Jerusalem, while others say it demonstrates that marriage holds sorrow and joy. That being, the breaking represents the commitment to stand by one another even in challenging times. In many cases, the cloth holding the shards will be kept to create a souvenir for the bride and groom. 
Shout Mazel Tov! As one of the most well-known Jewish traditions, shouting "Mazel tov!" at the end of the ceremony is a way of expressing "good luck" or "congratulations!" But, if translated directly, its closer meaning is to wish the best for their future or an extraordinary destiny. So there's no better place to say "Mazel tov!" than at an interfaith wedding ceremony! 
Pronouncement: After the wedding ceremony is over, it's my honor to encourage the couple to seal their marriage with a kiss and announce the newlywed couples for the very first time. Declaring the couple is officially married is so fun! 
Recessional: A recessional is when the couple goes down the aisle as a married couple. Happily, Laura and Jeremy walked down the aisle, followed by their wedding party, parents, and important family members. 
I will never forget this wedding ceremony, primarily due to the kind words of Laura's father. After the ceremony, he greeted me to express his appreciation of my knowledge and ability to coordinate such a beautiful affair. I couldn't agree more! And not to toot my own horn, but there are not many professional officiants that can plan such a wedding ceremony.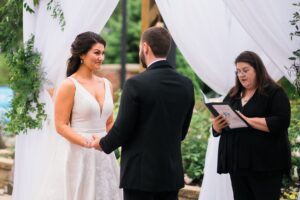 When planning a wedding ceremony, we want our couples to feel confident. A wedding should not feel forced or confusing. Instead, it should feel good and right with the couple's heart. That's why it's so important to me to spend extra time understanding and growing my practice, especially for couples like Laura and Jeremy. They choose to personalize their weddings to include their unique backgrounds and faiths (and love of animals!) 
My extensive experience crafting personalized interfaith wedding ceremonies enables me to create a comforting balance between couples and their families to honor different faiths. 
As an interfaith wedding officiant, I must not only know but understand different spiritual paths and religions and the differences and similarities between each. Many might think this skill requires a degree in comparative religion, but with 11 years under my stole, I am confident that we are knowledgeable about each tradition and understand how to pull from both when crafting the perfect ceremony. Incorporating religious and multicultural wedding ceremony elements into a beautiful ceremony script might take the cake for me!
What a fun wedding! Thank you so much, Laura and Jeremy, for allowing me to be a part of your special day. You both have such contagious smiles and bright spirits. I want to wish you the best of luck in your life.

PHOTOS PROVIDED BY: Skylar Rain Photography