A second ceremony is beautiful.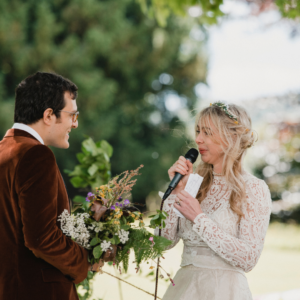 Saying "I do" again? Many things are sweeter the second time around. Whether your financial situation allows you to have the wedding of your dream now, or your first micro-wedding didn't support your entire family attending, and now you want to celebrate your love in front of all the members of your family, a sequel wedding can be everything you hope for it to be!
What is a sequel or a second wedding? 
A sequel wedding tends to be a larger second ceremony that takes place after a couple's initial Ceremony (such as an elopement). You might be hearing about them more often due to the pandemic. That's because people who were wed during CO VID-19 times are finally able to celebrate with their family and friends (like the way they initially intended). 
What to expect for your sequel ceremony? 
It's not your first rodeo, but things this go around might be a little different than you think. 
Here's what a second ceremony can look like:
Sequel Wedding in Nebraska Timeline:
Procession
You've already committed to each other. So, this goes around; consider walking down the aisle together. Hold hands like the winning team that you know you are!
Welcome
During the welcome or invocation, it's common for the Nebraska Wedding officiant to give a few words. I love to make sure to personalize and recap the situation. This is a time to honor your commitment and spread an abundance of tremendous joy for the Ceremony ahead. 
Vow Exchange
It's not common for a couple to skip the exchanging of vows during their first Ceremony, especially if they popped into the courthouse for a quick signature. Take this time to share (even cheesy) words and commitments for one another at this time. 
Gratitude from the couple to their beloved guest
 Since you have been living married life already, you have felt the love and support your family has to offer your relationship. Taking time to thank them for their support in the past and in the future would leave a lasting positive memory for everyone involved.
The Ring Exchange
 Maybe you and your love decided it's time for an upgrade, and you exchange flashy new bling. Or you hold sentimental value in your OG rings and couldn't bear to part ways. There's no wrong way to celebrate your love. 
Your Second Kiss
You may already live life under the same last name and have had the magical "I do" kiss before, but you might as well take the opportunity in front of you and plant a sweet on your partner while your family cheers you on!
The Recession
This is when the party starts! Your officiant will thank your guest for their continual support of your love and send them on their way to drinks, laughs, and, let's be honest…some awkward dance moves! But don't worry, the more awkward, the better!
Let's plan Your Sequel Wedding in Nebraska
 Having your second wedding in Nebraska can be just as magical, sentimental, and beautiful as any first-timers. Making a few adjustments can allow your Ceremony to go off without a hitch and will leave you ready to dance the night away with your life partner and the people that mean the most to you!
If you're ready to book your second wedding, let's get in touch. You can reach me with the following information;
I Tie the Knots – Professional Wedding Officiation & Wedding Planning
Call (402) 965-1060
110 N 9th Street
Omaha, NE 68102
Located inside Complete Studios