Almost 25% of all couples will incorporate some personalized theme into their wedding. Not only does it help showcase your personalities and likes, but it adds a certain pizazz to guests' experience. But how do you walk the fine line of "too much of a good thing" and "just right." 
Being in the industry, I've learned a few tricks of the trade. So, keep reading to learn how to create a wedding theme without going overboard. 
#1 What's your style?
What style says, "this is us." Understanding your style (as a couple) is important. You'll want to do this before incorporating a theme into your big day. 
For example, do you want your #BestDayEver to be more on the formal or casual side? Will your guests need to dress to the 9's? Will jeans be appropriate? These choices will greatly impact how your theme reflects unto your decor, attire, and even food! 
As advice from a Professional Wedding Officiant, your style should represent you both as a couple. If one or both of you are bakers, it would only make sense to represent this. For instance, you might prepare your wedding cake to share with guests. 
If you're a couple that enjoys no-frills and doesn't dress up, you'll be more inclined to have a black-tie, glizzy day. 
#2 Let Your Heart Guide You
Is there really such thing as being "too creative" with your theme? You'll find a hundred blogs that will answer, "yes." They might say, "let the seasons guide you." But, honestly, we say let your heart guide you. 
If you want a winter wonderland wedding in the middle of July, do it. If you want a beach-themed wedding in February, I'll be there. You both deserve a day that is absolutely everything you pictured. 
#3 Keep "THIS IS US" in mind. 
Yes. We want you to let your heart guide you. But, always resort back to this question: "Is this us?" It'll help walk that fine line we were talking about earlier. 
For example, if you want a Disney-themed wedding, make sure it doesn't turn into a Disney-themed party. As tempting as it is to incorporate it into all the details, be sure to not get carried away from the true meaning of the day – your love. 
What are some popular wedding themes?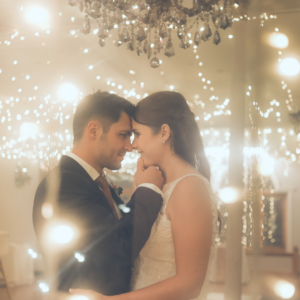 It's so special when couples create a thematic experience that reflects their unique relationships. It builds excitement around the planning process, builds more interest, and brings out the couple's fun and creative style.  
Recently, one couple even chose to incorporate the roaring '20s. They decided on an Omaha wedding venue that fit the picture and dove in with details. It was classic!
But, you don't have to put tension on yourself to reinvent the wheel (well, unless you want to). I've rounded up a list of the top 10 wedding themes for you to explore:  
#1 Classic Wedding Theme
Soft colors, elegant stationery, and a timeless wedding dress. It's as if Cinderella helped you hand-pick all the details. The Fountains Ballroom is designed as a blank canvas, to create the (classic) wedding of your dreams. 
#2 Rustic
In the Midwest, a rustic wedding theme is never a bad idea. Traditionally, the couple will saddle up for a relaxed day full of homespun touches. You know, handmade wooden tables and chairs within a barn venue. Mason jars are abundant, and the beer is ice cold. Yee-haw! 
#3 Beach
Nebraska isn't remotely close to the beach. But why let that stop you from having a beachy-themed wedding? S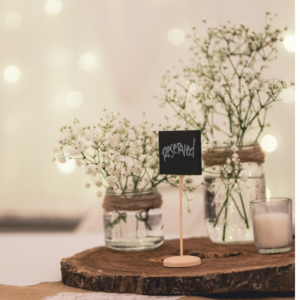 o whether you're jet-setting off to Hawaii to say your vows or ordering leis and coconut bras right here at home, let tides guide you on this popular trend. 
#4 Travel
Wonderlust and weddings go hand-in-hand – pun intended. Make a seating chart out of a giant map, or name the reception tables after your favorite places. Arrange food from different locations, like Chicken Alfredo from "Italy" and Bratz from "Germany." Take the 'path less traveled' by on this wonder lusting wedding theme. 
#5 Modern Vintage
If you like an old-fashioned style, but want to fold in a modern touch, a modern vintage wedding is perfect for you both. So, mix the past and present with unique heirlooms and pick a classic location as your #BestDayEver backdrop. 
#6 Disney Theme
From a swoon-worthy ball gown to a magical mouse cake-topper, a Disney-themed wedding will allow you to truly live out your fairytale wedding. Celebrate your marriage with the perfect dose of whimsy, nostalgia, and playfulness. 
#7 Fairy Garden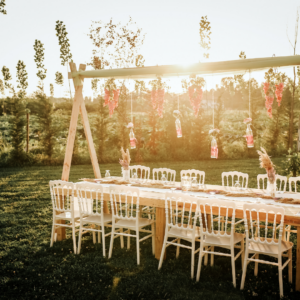 It's so dreamy to think about a "happily ever after" garden-themed wedding. Almost enchanting, if you will? Bring a combination of woodland elements, like moss, feathers, and foraged branches paired with a layer of other bohemian, romantic and whimsical elements. Use natural elements to make this day one to remember. 
#8 Gatsby 
Art-deco-inspired decor, champagne towers, and dancing on tables? It must be a Gatsby-themed wedding. Now that we're in the modern-day '20s, what better way to celebrate than by throwing a 'Roaring '20s' themed wedding? Don't let your guests forget their flapper dresses! 
#9 Harry Potter
It's bloody brilliant. If you're still bitter over not receiving your Hogwartz acceptance letter, relish in the fact that you can celebrate your Harry Potter obsession (and "I dos") on your big day. Enlist the sorting hat for seat savers, use candles galore, and a "MimosA" bar for sure. 
#10 Winter Wonderland
Deep blues, merry holiday spirits, and frosted window panes make more couples want to "tie the knot" in winter. The snowy season lends itself perfectly to formal or black-tie attire, especially since nobody is worried about over-heating this time of year. 
Conclusion
With a bit of creativity, every piece of your perfect day will be infused with motifs related to your theme. But, keep in mind, no matter what theme you choose to incorporate into your special day, know that it should reflect upon your relationship. Getting caught up in the details will only distract you from the real "reason for the season." 
If you want everything to go as planned, be sure to select the best vendors to help you out. Here at I Tie The Knots Weddings, we've created a list to help – click here. 
Do you need a Professional Wedding Officiant? 
If you do not have an officiant, we'd be so happy to learn about your wishes for your wedding day. It's easy to make an appointment. Just schedule a complimentary consultation here by choosing a time that works for both of your schedules. 
Carol Lynne 
Professional Wedding Officiant
Nebraska & Iowa Weddings
402-965-1060
info@itietheknots.com
Thank you again for stopping by our blog. 
.