Now that you've said "Yes," it's time to start thinking about where you'd like to get married (and book it as quickly as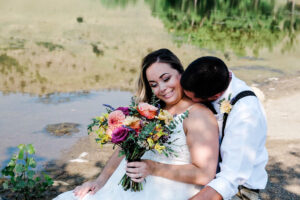 possible). Searching for a Wedding Venue in Nebraska might be a struggle. Th ey book up very fast, especially on off-season or non-husker football days. And being that it's one of the most significant decisions to make, it's essential to be prepared! 
Many couples feel that once a venue is chosen, it helps them better visualize their wedding day and makes the other decisions simpler. In this blog, we've made a list to help you do so! 
STEP 1: Self-reflect 
Some things are more important than others, but these questions will get you on the right track for quickly choosing a Wedding Venue in Nebraska:
 When do you want your wedding?

 Think season! Whether it's a spring bash or a winter wonderland, having a season in mind will help you narrow down a date. Your dream location might not have your dream date, so keep an open mind when reviewing wedding venues. 

Where do you want to celebrate your big day?

 Where and when go hand-in-hand. For this question, we ask you to leave no destination off the table. So, while you're thinking about the season, think about the location. Do you want to do a gorgeous spring wedding at Miletta Vista Winery? Do you want to elope in a quaint nursery? Check out my list of 

Preferred Vendors in Nebraska

.

Do you want a short or long engagement? 

Think about how quickly you'd like to get married. Whether it's a quick elopement on a Tuesday or a few years, it's essential to know a time frame. 

What time do you want to get married?

 When it comes to what time of day you have your wedding ceremony, most couples choose between 11:00 – 1:00 PM. But, times are changing! You can get married in the morning, and spend the rest of the afternoon doing an activity you love, like taking a hot air balloon ride in Valley, NE. Maybe, you want to get married at the Blatt in the evening (then dance the night away.) Your day is 100% customizable to YOU! 
STEP 2: Research.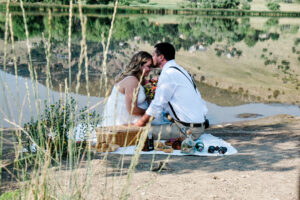 Now that you have taken the time to research a bit of where and when you'll get married, you'll want to start researching vendors in that specific location. Again, it's a good idea to have your partner go with you. This day is just as much about you as it is them.
 In step two, spend some time asking each other these questions. Then, make a list of venues you'd like to visit together. 
What style do you want? 

Do you want a rustic wedding or something more modern? Does a garden wedding seem like a good fit? Picking a style (or two!) will help you more easily search for inspiration. For example, searching for "wedding flowers" will give you far too many options but searching for "bohemian wedding flowers" may offer better results. 

How many guests will you have? 

Go ahead, scroll through your friend's list and get an idea of who you want to be in attendance on your special day. Your Wedding Venue in Nebraska will need to know how many people to expect so they can prepare correctly. 

What's your budget? 

Let's face it! Weddings can get pricey. But, understanding your budget and sticking to it can help you stay on track. Better yet, please share it with the venue! Make sure that both party's expectations are met (so no surprise fees pop up!) 

What experience do you want your guests to have?

 Do you want a big, traditional wedding or something out of the box? Imagine what you'd like your guests to experience on your wedding day and share that with the venue coordinator. 

What logistics need to be kept in mind?  

If your wedding ceremony site and reception hall are in two different locations, you'll need to think about how your guests can get there safely. Ask your venue where guests can park their vehicles. 

What time will the part end?

 Cue "Closing Time," by Semisonic. Understanding what time the party comes to close will be helpful to not only yourself but also paid vendors and guests. Be sure to ask the venue what time you'll need to start ushering guests out of the building and start the clean-up process. 

What's your backup plan? 

They say it's good luck when it rains on your wedding day, but a rained-out wedding can be horrifically expensive and embarrassing. If you have an outdoor wedding in Nebraska, be sure to ask them if they provide space due to inclement weather. 

How many venues do you want to see? 

You likely have many possible venues for your wedding, but be selective! With so many to choose from, make sure you have time and energy to see the venues that you want to see. Don't waste precious time and energy on venues that don't fit the mold. Do so by messaging the venue any questions that you may have to help narrow down your selection. 
STEP 3: Create a vision board!
A vision board, either physical or digital, is a catchall for your inspiration. It can help you better understand the direction you want. It also functions as an anchor to keep themes consistent. When you are faced with a new decision and are unsure about it, you can reference your vision board and see if it "fits in" with your vision. 
How to make a vision board? 
Digital Copy: Pinterest is a great way to collect images for your vision board digitally. You can also easily share it with others and find so much inspiration on others' Pinterest boards. 

Physical Copy: A more tactile approach to a vision board can include images clipped from magazines. You can also have pictures, swatches of fabric, flowers, and paint. 
STEP 3: Research aWedding Venue in Nebraska that fit your vision!
Now that you have a broad range of what style, location, and budget you'll implement on your wedding day, it's time to research venues that fit your vision. You can spend time on their social media or website to get a better understanding of their business. 
STEP 4: Keep organized!
You'll want to keep these organized on an excel spreadsheet (or something similar). A spreadsheet will help you quickly compare venues and hold all relevant info in one spot. To continue your research, but keep your notes here. 
STEP 5: Consider hiring a planner if overwhelmed.
Choosing a venue is a lot of work! A professional wedding planner will better understand what venues will be a good fit for your wedding day vision. Also, if you are getting married in another town or state that you may be less familiar with, a wedding planner is a must! 
STEP 6: Visit aWedding Venue in Nebraska of interest (and ASK QUESTIONS)
Once you have information about the venues you are interested in, take the time to see them in person and come prepared with questions! Thank you to Here Comes the Bride, here are some of our favorites:
Questions to Ask aWedding Venue in Nebraska Locations Before Booking: 
What dates are available? 

How many people can they accommodate?

What is the rental fee (and what does that include)?

How many hours does this fee cover? 

How much is the deposit? 

What happens if the weather is bad?

What's the payment plan?

What form of payment do they take?

What's the cancellation price?

Do you have liability insurance? 

Do you provide catering? 

How is alcohol priced, and is there a minimum?

Are there any additional fees for staff? 

Can we bring our decorations? 

Do you have any inventor rental decorations we can use?

Can I move anything around, or must it stay as is?

Do you have any signage to help direct guests?

Do you provide umbrellas for outdoor spacing?

How do you handle photographers/videographers?

Is there a separate space for cocktail hour? 

Can I hire my own vendors?

Can you recommend accommodations for out-of-town guests?

Do you have handicap accessible parking?

Do you recycle or compost? We love low-waste events. 

If we need a shuttle, is it complimentary?

Do you have a sound system for toasts? 

Can the venue accommodate a DJ?

Do you provide a coat check? 

What time can vendors start setting up? And what time do they need to start putting away?
STEP 7: Make a decision!
Now that you've done the research asked all the questions, and went on a couple of tours, choose the venue that most closely aligns with your vision and can accommodate your needs. 
STEP 8: Stay true to yourselves.
You are unique. Your partner is extraordinary. Together, your relationship is one of a kind. Always come back to this! Do not be pulled too hard by others' opinions or trends. It's your wedding day, it should feel like it! 
With so many decisions to make, keep in mind that you've already made the most important one of them all – your future spouse. Much like finding a lifelong lover and friend, your instincts will lead you to choose a perfect wedding venue. But, in the end, make sure it feels just right. 
As a wedding officiant in Nebraska, I have been to so many gorgeous venues throughout my career. If you're searching for a wedding venue in Nebraska, please consider visiting our preferred area wedding vendors list. There are so many beautiful options available. We offer officiant services for weddings of all sizes. If you'd like some help making this important decision, we'd be happy to help you! Schedule a consultation here, and we'll be in touch shortly!