Your wedding day will be one of the most memorable days in you and your partner's lives. It will be a day that you will think back on often and reminisce on for years to come. Sometime in the future, you'll be thinking about all the funny, silly, and beautiful moments that you share with the people you love the most. And though it's your best day ever, mishaps will happen (and you'll be thinking of those too).
However, with a bit of planning and forethought, you can be sure that when you look back on your special day, you will not be thinking about the minor mishaps but rather think about the celebration of your union. In this blog, we'll discuss the importance of a wedding day emergency kit to minimize the risk of unwanted occurrences. 
What is a Wedding Day Emergency Kit?
A wedding day emergency kit is exactly what it sounds like. It is a bag or box filled with "just in case" items to fix small problems that may come up on your wedding day. Think of those mishaps that you may have on a night out, like a spill on your blouse or your shoe rubbing uncomfortably. Such issues can make your day feel a little less special if you are not prepared to remedy them. 
Planning and Getting Started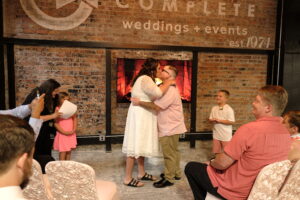 As you plan your wedding, think about possible things you may need for your day. Ask friends or consult people involved in your wedding about what might be needed. Suppose you are hiring a stylist or makeup artist; it's a good idea to start by asking them what they would include in their kit.
Such professionals in the Midwest have worked intimately with plenty of wedding parties and will have insight that you may not have. Your wedding coordinator will also have a wealth of knowledge specific to your wedding and venue. 
Writing a list on your phone will help you from forgetting anything you might need. Be sure to compile these items well in advance (think weeks, not days!) of your big day and store them together in one bag or box. I would recommend a backpack with zippers and roomy pockets that can easily be carried on your wedding day. 
Once you have all the information you need, you can discern for yourself what items will be vital to your specific wedding. In the meantime, we've compiled a list of must-haves for a successful wedding day. 
So, What Should Be Included in a Wedding Day Emergency Kit? 
Rips, snags, and tears do happen. A few threads that match your dress and wedding party can easily remedy such issues even without being a seamstress. Include a bar of beeswax or soap in your sewing kit if you have heavy beading on your gown. This can be rubbed onto the beadwork that comes in contact with your skin, like under your arms, which may cause irritation through the night. Be sure to have safety pins on hand in multiple sizes too! They are the workhorse of sewing kits. They can be used for tears in clothing and to secure boutonnieres if needed. 
Stain remover pen or wipes
Spills happen! Be ready with the right tools to tackle them on your wedding day. When treating a stain, be sure to gently blot not wipe as to not spread the stain further. If a stain persists, baby powder or chalk can be dabbed on to camouflage a stain. 
A chipped nail or nail polish can be covered with some clear nail polish as not to snag on the delicate fabric of your dress. A run in a stocking can be stopped with a dab of clear nail polish.  
Include small samples of your makeup for touch-ups throughout your day. Be sure to include oil blotting sheets, lipstick, mascara, and setting spray. Eyelash glue should also be part of this kit. Not only will it be useful if lashes come undone, but it can also be used in a pinch to glue small stones or beads. 
It's likely that you and many of your wedding parties are wearing brand new shoes for the occasion. Blister balm or liquid bandaid can help keep your feet from the pain that comes with walking, standing, and dancing the night away! 
Portable clothing steamer
A portable steamer can quickly get wrinkles out from clothing that may have been wrinkled in clothing bags and can be used on more delicate fabrics such as silk. 
You might not think you will be getting a headache or an upset stomach on your wedding day, but the excitement and stress can be overwhelming. A packet with ibuprofen, allergy meds, antacids, eye drops, and vitamin C may come in handy. If you are prone to cold sores, this would also be an excellent time to keep some cream handy for that too. In Omaha, Nebraska, there's a CVS Pharmacy or Walgreens on every corner. It shouldn't be hard to find something quickly. 
Between getting ready, the ceremony, and pictures, you may not get a chance to properly eat. Pack a few high-protein snack bars in case of hunger. Include candy in case of low blood sugar. We wouldn't want anyone fainting during the ceremony! 
A few packable bags will come in handy when corralling all of your things back to your home. 
Other handy essentials include: 
Makeup wipes

Extra bobby pins and hair ties

Double Stick Fashion Tape

Comfortable shoes 

Extra jewelry

Jewelry repair kit 

Jewelry cleaner

Hairspray

Deodorant

Scissors

Lip balm

Mints

Sunscreen

Lint roller

Tweezers

Toothbrush and toothpaste

Floss

Q-tips

Static guard

Phone charger

portable fan

Lotion

Tampons or pads 

Superglue

Razor

Nail clippers

Nail file

Cash

Spare keys

Brush or comb

Straws (think lipstick!)

Power bank

Extension cord

Spare undergarments 
Who Should Be Responsible For The Emergency Kit Day?
This emergency kit should be the explicit responsibility of a trusted friend or family member. Before the wedding day, be sure to ask the person to be responsible for the emergency kit. A maid of honor, family member, or close friend will likely be happy to help you with this task. Be sure that your wedding party and partner know who will be in charge of the emergency kit so they can easily get the supplies they need without coming to you first. It is important that the person be trustworthy and reliable so you can have one less thing to stress about on your wedding day in Omaha, NE! 
Be sure to pack plenty of snacks in case you get hungry or extra sandals for when you've danced your night away at Vila Aletta to prevent your feet from becoming sore. Plan to get help from a loved one, family member, or myself to create a kit that will save you time, money (and maybe) embarrassment on your beautiful wedding day. 
Whether you're planning a large traditional Nebraska wedding or jet-setting off to your dream destination wedding, I cannot wait to get to know you and your story. Do you have a wedding officiant yet? Give me a call or text at (402) 965-1060. You may also shoot me an email at this address:info@itietheknots.com. I look forward to speaking with you!