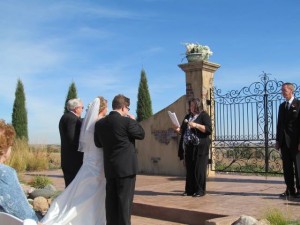 Whether your officiant will be a civil officiant, a loved one, or a religious officiant, here are a few things you need to know about picking the right officiant.
Congratulations! You are getting married. This extraordinary union between yourself and your partner is a celebration of your new life together as a married couple. But other than your vows and saying "I Do," you and your partner aren't going to be saying too much at the alter – that role falls heavily on the wedding officiant. 
What is a wedding officiant? 
There are various types of officiants, and each one caters to different kinds of weddings. Once you know the different types, it will be easy to determine which one is best for you. 
What is a religious ceremony?
In a traditional religious ceremony, you're limited in the type of officiant you may have for your big day. For example, if you're tying the knot in a Catholic Church, your wedding will need to be officiated by a priest. If you're Jewish and getting married in a synagogue, you'll need to contact a Rabbi to marry you. If you're having a traditional Muslim ceremony, you'll want to seek out an Imam. 
You might be limited in the type of officiant you have at the wedding, but that doesn't mean you're limited in who can officiate the ceremony. 
Find the right religious wedding officiant for your wedding with these tips: 
Chances are, you went on several dates with a lot of unique individuals before your fell in love and knew you've found "the one." Well, it's the same concept when finding the perfect wedding officiant. You'll most likely need to meet with several officiants before you find the perfect match for your special day. Plan to schedule meetings with at least 2-3 potential wedding officiants.
Not only look for someone with experience but find someone that makes you and your future spouse comfortable. Your officiant will play a big part in your special day – so you want to make sure it's someone who makes you feel happy and secure in your decision.
Find Someone Who Lines Up with Your Ceremony Style
If you're having a traditional religious wedding, you already know you'll need to find a wedding officiant that aligns with your faith. However, it may not be so evident that finding someone who lines up with your wedding styles is as important. 
If you want to keep things serious, look for a more old-fashioned, traditional officiant. If you want to jazz up the ceremony with light-hearted yet slightly funny moments, choose an easy-going wedding officiant with a great sense of humor. 
The bottom line is, every wedding ceremony – and every officiant – has its unique style. Be sure to it's a match made in Heaven! 
Comfortable Public Speaking
Find someone who likes to talk, especially in front of people. Speaking plays a significant role in a wedding officiant's job. If they are not comfortable speaking in front of a large crowd, they're not going to be the right person to officiate the wedding. 
To get a feel for their ability and comfort level to speak in front of a crowd, simply ask them a few questions! 
Can you project your voice to the back row so my guests will be able to hear you? 

Do you have experience speaking in front of large crowds? Tell me about it!
If they indicate 'no' to these questions, it might be a hint to keep looking. 
What is a Secular Ceremony? 
A secular ceremony is a non-religious ceremony. You can expect to hear a series of vows and readings that are not tied to any specific religion. Additionally, regardless of your beliefs, you can plan a non-religious wedding ceremony if it's what you and your future spouse want. All the same, rules apply with a secular ceremony when it comes to choosing an officiant, but there are a few things to think about: 
Do you want someone you do or do not know to officiate your wedding? 
For a non-religious wedding, there are two options available: a civil officiant or a friend or family member, each having its pros and cons. 
It can be nice to have your friend officiate your wedding, but it can also come with challenges, such as added pressure and lack of experience speaking in front of crowds. This person is most likely close with you both of you and wants to do your union ceremony justice, but it may add to the overall nervousness. 
Make sure the officiant Understand the Role
Again, officiating a wedding is an important job! A wedding officiant needs to meet with the couple several times before the wedding, write a ceremony that touches the couple, attend rehearsals, and actually officiate in front of loved ones on the big day. So if you do decide to ask a friend or family member to officiate, make sure they understand the responsibility of the role. For example, you might want your clever cousin to officiate your wedding. If that same cousin is wrapping up the school year or is experiencing a life event, she most likely will not have the bandwidth to provide the commitment necessary. 
If your loved one is already overwhelmed with commitments, you don't want to ask them to take on additional responsibilities. In those cases, it's best to find an alternative option for a wedding officiant. On the other hand, because a civil officiant doesn't know you or your soon-to-be spouse, the ceremony might not feel personal (and that's what makes I Tie The Knots stand apart from other officiants). 
At I Tie The Knots, we take this con and flip it by spending time before the wedding to help you design and create the wedding ceremony of your dreams! 
We are experienced in officiating traditional and non-traditional weddings. It's not our first rodeo, so we know what to do, what to ask the happy couple, and how to make sure your wedding does not fall off course. As I get to know you both during your consultation, we will discuss your vision and any upcoming details that need to be ironed out to make your wedding day everything you want it to be. 
You deserve to have the wedding of your dreams, and that means you need an officiant that understands your vision. Now that you know exactly how to choose an officiant to go ahead and get out there to find someone to officiate your big day. Take the time to choose wisely, and you will have a ceremony you will cherish forever. 
Additionally, we'd be honored to be considered for your wedding officiant. Our goal is to make your event a very special and problem-free celebration for you and your guests. Please schedule a FREE consultation by clicking here. We cannot wait to hear from you!