18 Unity Ceremony Ideas to Inspire Your Wedding Planning
Tree planting, jumping the broom, and literally tying the knot are just some of the many unique unity ceremonies to customize the formal portion of the big day.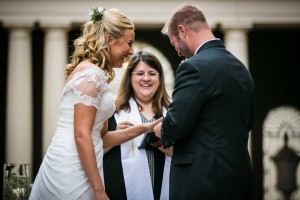 There are plenty of ways to make your wedding ceremony special, from a heartfelt playlist to personalized vows. But if you're looking to customize the formal portion of your wedding, consider including a unique unity ceremony to honor your marriage. Many modern couples scour the internet, Pinterest included, searching for a more personal way to say 'I do,' and the list of unity ceremony ideas can be endless. 
From hand-fasting and lassoing to ring warming and breaking the glass – it can be challenging for couples to decide which ceremony perfectly fits their personalities. But as an experienced officiant in Nebraska, I have seen how the true unity ceremony can produce the most beautiful moment for my couples.
Searching for unity ceremony ideas and deciding which style is right for you can be a challenge. And so, I thought I'd draw on my extensive practical knowledge as a Nebraska Officiant and share the unity ceremonies I feel you should consider. Some sweet, sentimental, and fun rituals that will effortlessly symbolize your unification. 
Whether you're looking for a unique idea to incorporate your personality or cultural practice, I'm here to help! Keep reading for 17 unity ceremony ideas to make your big day unforgettable!
Unity Ceremony Ideas to Consider for Your Big Day
#1 Sand Ceremony
The first of our unity ceremony ideas is a variation on the traditional Catholic unity candle. The Sand Ceremony, a relatively modern ritual, symbolizes the unification of the couple and their families. The ceremony revolves around the pouring of bi-colored sands from two separate small vases into one large vase. 
It can be easily customized to represent individual couples, and in the end, you will be left with a unique keepsake of your unity ceremony. If you're planning on displaying your vase post-ceremony, you must decide on the order of your pouring. That way, you can create a pretty, layered pattern with the colored sand. 
If you're wondering what colors to choose, consider where you will keep the finished product! If you plan to keep the vase in your home, consider colors that go along with your home decor. 
#2 Wine Ceremony
As an officiant in Nebraska, this service has been a flavorful favorite with many of my couples! During the exchanging of vows, the Wine Ceremony can take many forms to suit the needs of the happy couple. Typically, this ceremony involves the selection of one red and one white wine. The couple may choose to pour from two glasses into one and then share the combined glass in "cheers" of their unification and prosperous life ahead. If the couple wishes to savor the wine, they may create a wine box to be opened during a future anniversary. 
Don't love wine? Consider an alternative. Tequila, beer, whiskey – whatever represents you both the best.
#3 Candle Ceremony
As a popular unity ceremony idea, sparking up your marriage with a candle ceremony involves lighting one large candle with two smaller candles to commemorate the Unity of two families. Traditionally, the candles are illuminated by the Mothers. Often seen in Christian, especially Catholic weddings, this type of Unity signifies two faiths joining together in front of the face of God. However, this ritual is not explicitly part of the church, so a candle ceremony will be acceptable if you are nonreligious. 
#4 Hand-fasting Ceremony (Tying the Knot)
If nothing else, maybe you'll come away from reading this post with the reason why we say 'tying the knot'! Hand-fasting, or Tying the Knot, is an ancient Celtic ritual that symbolizes the binding together of two people in matrimony. Typically, this ceremony starts with the couple joining hands as the officiant explains the purpose of the ritual. Once defined, the officiant will read vows as the couple begins to wrap the cords or ribbons around the hands. Once bound, the officiant will further explain the symbolizing behind the binding. Finally, once finished, the couple will exchange vows. 
Many of my couples will customize their vows accordingly to the color of their ribbons or cords. For example, a couple may choose red for passion or green for financial security within a relationship. 
If you're interested in learning more about Hand-fasting, please visit this site for The Ultimate Handfasting Guide.
#5 Sundial Ceremony
Highly cherished in Ireland, this Celtic unity ceremony traditionally involves the marrying couple touching each other's fingers through the hole of a stone sundial (which a sundial itself is carved in stone). This act is to represent their unification, both as a confirmation and as a symbol. 
Following the light touch, silk scarves are passed through the sundial hole three times while the couple makes a wish. Guests are then invited to join at the sundial and make wishes of their own.
#6 Lasso Wedding Ceremony
Unlike many of the unity ceremony ideas in this post, the Lasso Ceremony is performed after exchanging vows. 
Popular amongst Catholic and Filipino communities, this unity ceremony involves placing a lasso rope, a garland of flowers, or rosary beads over the couple's shoulders. Usually set by your Nebraska officiant, a close family member or Godparents may place the ropes in figure eight or infinity symbol, representing the couple's everlasting love. 
#7 Ring Warming
If you want a way to incorporate your guests into your unity ceremony, then Ring Warming is a lovely ritual. This tradition typically involves the passing around of your wedding bands amongst your guests. As each member of your family and friends receives the ring, they are invited to say a blessing, wish, or prayer for the couple. Each time a wedding guest warms the ring, it is thought to be saturated with their love. 
#8 Kandi Exchange
Rapidly growing in the Electronic Dance Music (EDM) community, couples choose a Kandi bracelet exchange to symbolize their love, connection, and appreciation for each other. 
Kandi is a beaded bracelet made of pony beads or stones that are often traded at music festivals or events to commemorate a special moment within a friendship. These colorful beaded bracelets often have short reminders or phrases and charms amongst them.
 The bracelets are thought to be a sacred ritual, even so that the exchange will occur during a wedding! 
Kandi refers to the bracelet, but the actual exchange includes a handshake and exchange of two jewelry pieces as a sign of PLUR culture – peace, Love, Unity, and Respect. 
For Peace, make a peace sign and touch the index and middle finger to your trade finger. 

For love, make a half heart, and touch it to your trades to complete it. 

For Unity, clasp your hands together and interlock fingers. 

For Respect, you transfer the Kandi through the interlocked hands. 
Be sure to trade one at a time to avoid tangling! 
#9 Tree of Life Unity Ceremony
The idea behind this unique unity ceremony is the 'locking of love.' A Tree of Life Unity Ceremony centers around placing engraved locks by each family member onto a metal' tree of life' easel. This ritual represents the Unity of the two families, and the locks have no key, which serves as a reminder that this love is eternal. If you're looking for unity ceremony ideas that also produce a lovely souvenir, then this would be the perfect choice for you. The tree of life is often custom-made, so it can perfectly suit your taste and style.
#10 Jumping the Broom
Traditionally performed at some black weddings, jumping the broom is a way to pay homage to their culture and legacy. Often thought of as a way to symbolize 'out with the old, and in with the new,' it can be an excellent way to honor the heritage and bless the marriage.  
Occurring after vows, the officiant or a significant loved one will place the broomstick on the ground in front of the couple, and the officiant will explain the meaning behind the ceremony to guests. After an explanation and a brief prayer or poem, the couple will join hands and jump over the broom. And then start the party! 
Some couples who choose this tradition will be given a family heirloom broom to commemorate their marriage. 
#11 Veil, Cord, Coins
Each item in this traditional Filipino unity ceremony has its special meaning. For example, the veil serves as a symbol of the wholeness of marriage, while the cord symbolizes their everlasting bond, and the coins represent the care of earthly possessions. While traditionally, the veil, cord, and coins have origins in Catholicism, their rituals can be adapted to fit nonreligious ceremonies. Each item has its specific ceremony and typically involves the participation of selected family members or godparents.
#12 Quaich Ceremony
Discover your Scottish roots with this ancient, celebratory unity ceremony. The Quaich (or love cup) is a two-handled cup made from silver and engraved with traditional Scottish tribal symbolism. In the past, this cup was used to celebrate any form of union. But through the years it has come to be known more for its use during weddings. To introduce the Quaich into your big day, simply fill the cup with a drink of your choosing. Then each holds one handle and raises the cup to each other's lips, one after the other, and drinks. This is to symbolize the trust you have in each other. You can take this unity ceremony one step further and combine it with one of our other ideas above, the Wine Ceremony. Take one white and one red wine and mix them in the Quaich to symbolize your unification.
#13 Love Letters Ceremony
As an officiant, this is one that I know my Nebraska couples feel is the most romantic and practical when rocky times arise. This ritual starts before the big day and invites the couple to write love letters to each other in private. Within the letters lie the couple's thoughts of the relationship, including their hopes and dreams. 
Also known as the "First Fight Box," the letters are often locked in a box joined with the couple's favorite bottle of wine to share when times become difficult or uneasy. 
This sweet sentiment can also be enjoyed on an agreed anniversary but only opened when both couples agreed. So, no peeking!
#14 Tree Planting Ceremony
Modern-day couples looking for a fresh twist on more traditional wedding ceremonies love this eco-conscious tradition. A wonderful tree-planting ceremony invites couples to plant a tree sampling together in fertile soil to represent their relationship taking root, growing, and flourishing as their family would. When choosing the tree planting ceremony, make sure the tree is a Native Nebraska tree and can be planted responsibly shortly after celebrations to avoid conflict. 
#15 Rose Ceremony
As a symbol of beauty and love, the rose is often thought of as a symbol of beginnings, passion, friendship, love, and adoration. 
There's no right or wrong way to incorporate the Rose ceremony. However, a traditional route would be for the couple to give each other a single red rose at the end of the ceremony before being pronounced married. After the exchange, the officiant will give a single red rose blessing offering the sentiment of your first give to each other as a married couple.  
In some instances, couples can choose to involve their loved ones. In this case, every guest will be given a rose at the beginning of the ceremony and will be asked to place it in a vase. After the guests place in the vase, the couple will follow the lead. The completed vase ends up being an excellent keepsake, and together with the roses, a vibrant decoration for the married home.
#16 Painted Canvas Ceremony
 If you're not afraid of getting a bit of paint on your white dress or rented tux, painting a canvas to your liking may be a creative and fun artistic alternative to incorporate on your big day. 
Like a blank canvas, every marriage starts with a fresh, new beginning, and every day awaits "colorful" experiences to paint a beautiful picture—some colors of joy and blessing and others of sorrow and heartache. 
Creative couples will remember their commitment of love that lies at the foundation of their new life together but will never forget it all started with a blank canvas. 
#17 Breaking the Glass
As an iconic Jewish ceremonial tradition, breaking the glass symbolizes the destruction of the Jewish temple in Jerusalem and, within a wedding ceremony, the finality of the marital covenant. 
After exchanging vows, one marrying partner is invited to step (or stomp in excitement) on the glass until chattered, which is heald inside a cloth bag. 
Just as the broken pieces cannot be perfectly placed back together, the covenant of the marriage irrevocably binds the couple to their new state of marriage. 
After the shattering moment of two becoming one, it's traditional the cloth and its content are collected by the family and turned into a memento. 
#18 Harmony Glass (Blown Glass)
If a forever keepsake is what you're searching unity ceremony ideas for, then Harmony Glass may be your answer. Performing this very special ceremony will create some wonderful shared memories and a timeless piece of decoration. During the ceremony, guests are invited to come forward and pour preselected colored glass crystals into a bowl. This pouring together of the crystals creates a unique, bespoke artwork that symbolizes the union of your loved ones. Before it's presented to the couple, the receptacle and contents are taken away and molded into a bespoke design.
 Keep in mind there are no right or wrong ways to perform a unity ceremony. Weaving a symbolic ritual into your wedding day, like handfasting or lighting of a candle, should reflect your personality as a couple. Additionally, I hope I have sparked inspiration during your search for the perfect unity ceremony incorporation. 
If you are looking for an officiant in Nebraska, it would be an honor to perform your ceremony. I have a vast amount of experience in all the ceremonies listed within this article. Additionally, I welcome any ideas that will help make your day more magical than expected.  If you would like more information about my officiant services, please click here. And if you would like to get in touch, please schedule an appointment here.