Omaha Wedding Officiants
Happily ever after… with officiation by I Tie the Knots
Congratulations on your Engagement! Now let us help create and officiate the wedding ceremony of your dreams!
Our team of Professional Wedding Officiants will provide you with a stress free wedding ceremony that you and your guests will enjoy & remember! Your ceremony will be Personalized and Designed to your specific ideas and beliefs. Do you want your ceremony to be elegant and classic or fun and romantic? We are here to work together with you. We understand the needs of today's couples!
We are Omaha's wedding officiants for ceremonies large and small, whether you're looking for a quick elopement, or a grand wedding ceremony at a historic landmark, modern venue or fabulous winery with groups in the hundreds.
Contact us today to schedule your complimentary consultation.
Click this link to EMAIL us. Call or text us at 402-965-1060.
We now offer you the convenience of online scheduling. CLICK HERE to find a date and time that works for you.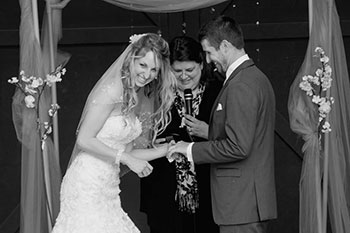 During your consultation you will meet with the Owner, Carol Lynne, and discuss your vision and the details of your wedding ceremony. We will provide you with online samples of wedding ceremonies including Vows, Love Letter & Wine Box Ceremonies, Sand Ceremonies, Unity Candle Ceremonies, Remembrance Blessings, Poems, Prayers and Scripture, Ring Exchanges, Joining of Hands Ceremony, Hand Fasting, etc… all the information that you need to design your customized ceremony.
Our goal is to make your event a very special and memorable celebration for you and your guests. Our wedding officiation is top-notch, and we have hundreds of happy brides and grooms. We are available for suggestions to help select a venue for your ceremony/reception, photographer referrals, wedding planners, DJs and any other detail you would like assistance with. Our wedding officiation services are outstanding. And our friendly, professional staff will courteously attend to your every need.
Officiation Experience Matters on your Wedding Day!

Click BOOK NOW to schedule your complimentary consultation