Eloping is the Fun, Easy and Affordable Way to Get Married – Elope today!
Have you ever thought about just cutting out all the stress and getting married privately? Consider elopement. You can book online now!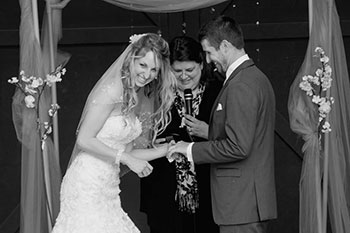 We will come to your home or you can come to our West Omaha Wedding Chapel. If the weather is nice, we can even meet you at a predetermined outdoor location.

In Nebraska just obtain your marriage license and book online. Preplanned or same day services available. Pricing starts at just $99 for a simple license signing at our office, $149 for a quick elopement ceremony or $199 for a ceremony with up to 10 family and friends in attendance. One or two witnesses can be provided for you for $35 each. A great solution if you are from out of town or just want to keep things private. We can hold your ceremony outdoors, in your home, a restaurant or in our chapel in west Omaha. If you are Eloping in Iowa much of the same applies except there is a three day waiting period to obtain your license.
Nebraska has no waiting period. Just get your license and get married! Same day and short notice ceremonies available at our offices or your venue choice.
In Nebraska, the process of Eloping is quite simple. You just obtain your marriage license from any county clerk, and you can get married the same day. No waiting period.. It couldn't be much easier. You and your Fiancé can just complete the marriage license application form, and appear in person at the county clerk's office of your choice. They will take the application, the small application fee, and review the information with you both. They will ask you to swear that it is true and will then issue your license. This license will need to be brought to your officiant who will perform the ceremony. The officiant legalizes your marriage license, as well as a keepsake certificate, if provided. The two witnesses will also sign the form, attesting that they witnessed the wedding and the ceremony was carried out. After that, it's official. You're married! We will return your executed marriage license to the county clerk, and then it officially goes into the public record. If requested, the clerk will then mail a copy of the certificate to the address provided. There are some requirements in terms of costs, proof of identity and age, and other minor things, but the specifics are all listed on the current application form from the county clerk. If you reside in Douglas County Nebraska, you can find the form here.
Great solution for military personnel, new parents, college students, second marriages and those just wanting something easy and simple and/or private.